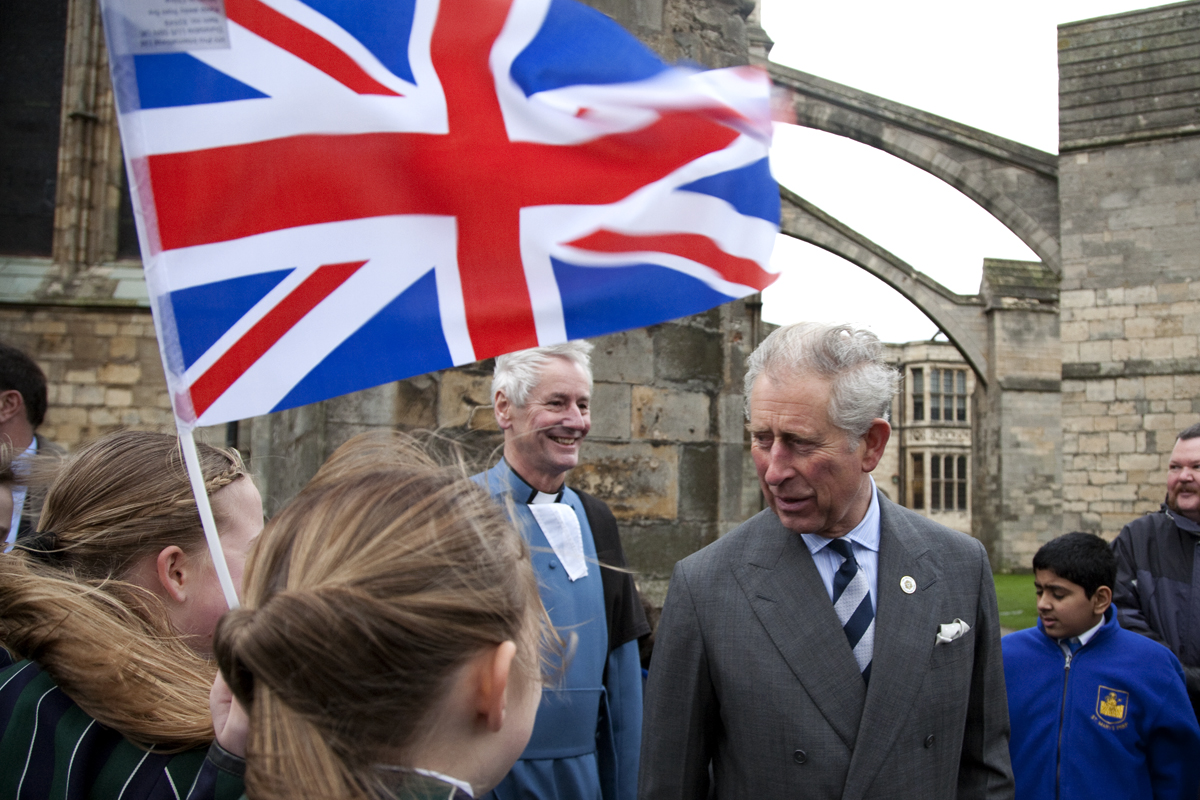 The Prince meets local school children
Photograph by Dominic Clark for
HRH Prince Charles, the Prince of Wales, together with HRH the Duchess of Cornwall arrived yesterday in the county by helicopter, landing in the Police Field, Nettleham.
The prince met participants on the Prince's Foundation for the Built Environment who have spent time in the Cathedral works department during a tour of Lincoln Cathedral at which the prince accepted the Cathedral's invitation to become Patron of the Cathedral Fabric Fund.
Cathedral officials also showed the heir to the throne some recent acquisitions, including a new set of Chapter copes made by the needlework guild. He was shown a full size image of the proposed statue of St Mary by sculptor Aidan Hart which is being considered for the re-ordered east end of the Cathedral.
The Prince turned his hand to stonemasonary watched by the Duchess, Charles wore plastic safety goggles as he used a chisel and mallet to chip away at a piece of stone in Lincoln Cathedral's stonemasonry workshop. He laughed when he was told the limestone was a softer version than that used by stonemasons working on the restoration and preservation of the cathedral and joked:

"That's very considerate of you."
Mr. Paul Atkin, team leader of stonemasons, said it was not the Prince's first attempt at the technique:
"He did some the last time he was here. We want to improve his skills from the last time. We need a few more weeks to get him up to scratch."
Mr. Atkin said the royal visit would help to keep the spotlight on the work needed on the cathedral, which costs more than £3,000,000 a year to run. Half of that is spent on the conservation of the building, and is dependant mainly on funds from supporters and donations.
Lincoln is one of only three cathedrals which preserve traditional skills through a team of thirty craftsmen and women consisting of stonemasons, glaziers, plumbers, carpenters, conservators and archivists. The team have honed their skills over decades but some new apprentices have also been drafted in to prevent the techniques from dying out.
The Prince attended a lunch with Young Farmers whilst the Duchess attended lunch with the Women's Institute. The final part of the tour of the county ended in a pub in the village of Burton-le-Coggles, south of Grantham. The Prince spent around an hour in the village, visiting the popular country pub, The Cholmeley Arms and its farm shop.

After meeting villages, schoolchildren and dignitaries, Prince Charles met the tenants of the Cholmeley Arms, John and Lesley Berry who have re-opened the pub, owned by the Easton Estate and built the village farm shop.